We've all heard of the popular music apps Spotify and Apple Music. Some of us are even subscribed to them. For a while now, there has been a subtle rivalry between the two. If you are subscribed to one of these programs, you may have caught yourself asking, "Which is the better deal?"
As far as price goes, Spotify and Apple Music both offer the same prices, $10 a month or $5 a month for college students. The two programs also offer the same family plan, which is only $15 a month for a family of up to six people. Both programs are loaded with several million tracks. Spotify claims it has over 40 million songs and Apple Music claims it has 50 million songs.
If you're new to Spotify, you can try the Spotify free trial which gives you 30 days of a free Spotify and Hulu membership. After the 30 days, you can choose if you would like to become a member for $10 a month or $5 a month for a college student. The membership provides ad-free music, unlimited skips, the ability to download up to ten thousand songs, the ability to listen to music online and offline, and a built-in Hulu membership all for only $10 a month. The same deal applies to the family membership, except the fee is instead $15 a month. Spotify also offers a free membership, which only really includes the ability to shuffle songs, meaning you would still see ads and receive lower quality music. Another perk of Spotify is anyone on any device can install the app, whether you have an Android or an iPhone. The app is one hundred percent free to install. To add on, the stream quality is significantly better than their competitor, with Apple Music having only up to 256 kbps for premium users and Spotify having 320 kbps.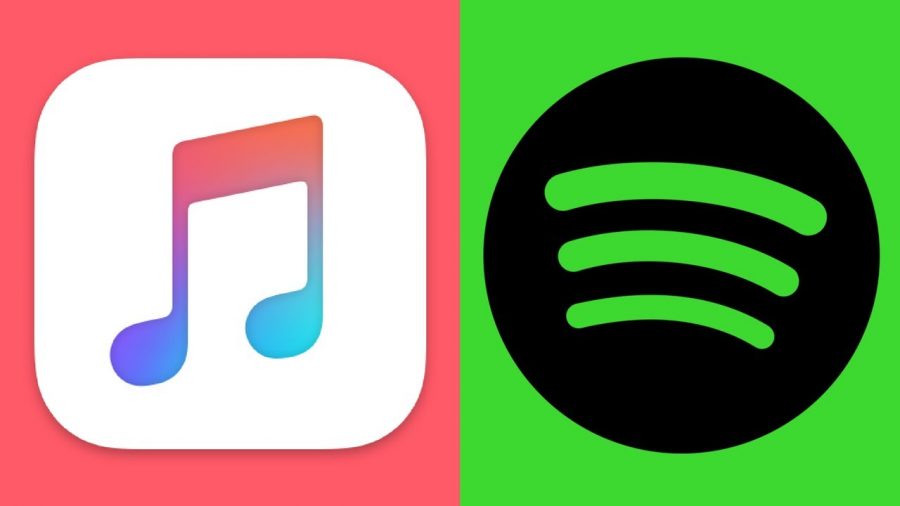 On the other hand, Apple Music's free trial gives you 3 months of a free membership. For the subscription, the same goes for Spotify with the fee being $10 a month or $5 for a college student and $15 for the family plan including up to six people. The membership includes the ability to stream up to 50 million songs ad-free and the ability to listen online and offline. If you didn't want to become a member, you would still have to pay for songs ranging from $1.99 to $2.59 apart from iTunes. If you happen to already have songs purchased and were to become a member, all of your songs and playlists would still be accessible.
In conclusion, Spotify and Apple Music are both excellent streaming programs that offer almost the exact same things. If you are not willing to spend money on music, Spotify is the way to go. If you prefer higher quality music, Apple Music is the way to go.