Every year Halloween comes and brings many things to the table. All the Spirit Halloween stores are open, 13th Floors has a new theme, and the scary movies. Studios provide movies that will make you scream, cry, and scare you. For some, however, we can't handle those types of movies. We would rather laugh then be scared. So, here are a few movies for people who still want to watch Halloween movies but don't want to be scared.
Hocus Pocus (1993) – After moving to Salem, Massachusetts, teenager Max Dennison explores an abandoned house with his sister Dani and their new friend, Allison. After dismissing a story Allison tells as superstitious, Max accidentally frees a coven of evil witches who used to live in the house. Now, with the help of a magical cat, the kids must steal the witches' book of spells to stop them from becoming immortal.
Casper (1995) – Casper is a kind, young ghost who peacefully haunts a mansion in Maine. When specialist James Harvey arrives to communicate with Casper and his fellow spirits, he brings along his teenage daughter, Kat. Casper quickly falls in love with Kat, but their budding relationship is complicated not only by his transparent state, but also by his troublemaking apparition uncles and their mischievous antics.
Ghostbusters and Ghostbusters II (1984, 1989) – After the members of a team of scientists lose their cushy positions at a university in New York City, they decide to become "ghostbusters" to wage a high-tech battle with the supernatural for money. They stumble upon a gateway to another dimension, a doorway that will release evil upon the city. The Ghostbusters must now save New York from complete destruction. 
The Nightmare Before Christmas (1993) – Jack Skellington, Halloweentown's beloved pumpkin king, has become bored with the same annual routine of frightening people in the "real world." When Jack accidentally stumbles on Christmastown, all bright colors and warm spirits, he gets a new lease on life. He plots to bring Christmas under his control by kidnapping Santa Claus and taking over the role. However, Jack soon discovers even the best-laid plans of mice and skeleton men can go seriously awry.
The Addams Family and Addams Family Values (1991, 1993) – The film focuses on a bizarre, macabre, aristocratic family who reconnect with who they believe to be a long-lost relative, Gomez's brother, Fester Addams, who is actually the adopted son of a loan shark intending to swindle the Addams clan out of their vast wealth and fortune. 
Monster House (2006) – No adults believe three youths' assertion that a neighboring residence is a living creature that means them harm. With Halloween approaching, the trio must find a way to destroy the structure before innocent trick-or-treaters meet ghastly ends. 
Little Shop Of Horrors (1986) – Meek flower shop assistant Seymour pines for co-worker Audrey. During a total eclipse, he discovers an unusual plant he names Audrey II, which feeds only on human flesh and blood. The growing plant attracts a great deal of business for the previously struggling store. After Seymour feeds Audrey's boyfriend, Orin, to the plant after Orin's accidental death, he must come up with more bodies for the increasingly bloodthirsty plant.
Corpse Bride (2005) – Victor and Victoria's families have arranged their marriage. Though they like each other, Victor is nervous about the ceremony. While he's in a forest practicing his lines for the wedding, a tree branch becomes a hand that drags him to the land of the dead. It belongs to Emily, who was murdered after eloping with her love and wants to marry Victor. Victor must get back above ground before Victoria marries the villainous Barkis Bittern.
Young Frankenstein (1974) – Respected medical lecturer Dr. Frederick Frankenstein learns that he has inherited his infamous grandfather's estate in Transylvania. Arriving at the castle, Dr. Frankenstein soon begins to recreate his grandfather's experiments with the help of servants Igor, Inga, and the fearsome Frau Blücher. After he creates his own monster, new complications ensue with the arrival of the doctor's fiancée, Elizabeth.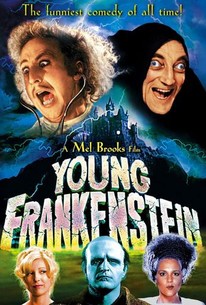 Edward Scissorhands (1990) – A scientist builds an animated human being, the gentle Edward. The scientist dies before he can finish assembling Edward, though, leaving the young man with a freakish appearance accentuated by the scissor blades he has instead of hands. Loving suburban saleswoman Peg discovers Edward and takes him home, where he falls for Peg's teen daughter. However, despite his kindness and artistic talent, Edward's hands make him an outcast.
Practical Magic (1998) – Sally and Gillian Owens, born into a magical family, have mostly avoided witchcraft themselves. However, when Gillian's vicious boyfriend, Jimmy Angelov, dies unexpectedly, the Owens sisters give themselves a crash course in hard magic. With policeman Gary Hallet growing suspicious, the girls struggle to resurrect Angelov and unwittingly inject his corpse with an evil spirit that threatens to end their family line.
Beetlejuice (1988) – After Barbara and Adam Maitland die in a car accident, they find themselves stuck haunting their country residence, unable to leave the house. When the unbearable Deetzes and teen daughter Lydia buy the home, the Maitlands attempt to scare them away without success. Their efforts attract Beetlejuice, a rambunctious spirit, whose "help" quickly becomes dangerous for the Maitlands and innocent Lydia.
It's The Great Pumpkin, Charlie Brown (1966) – With fall in full swing, the Peanuts gang prepares for Halloween. Linus writes his letter the the "Great Pumpkin" even though no one belives him, and the group goes trick-or-treating. After that, Sally and Linus wait in the cornfield for the Great Pumpkin, but fail to see him.
There are so many other movies, but here are a few to make it feel like the Halloween season. These are some of the most popular Halloween movies, and they are still very relevant to this day. So settle in, grab a blanket, and throw these on!